09 Nov

Add Promotions in Google Merchant Center – New

Given the unstable situation of Covid-19, Google continues to provide us with advertising on its platform through news. Previously we discussed the novelty of being able to do Google Shopping without having a data feed and that of the bestseller section.

This time we bring you a new Google Merchant Center tool called "Promotions"

.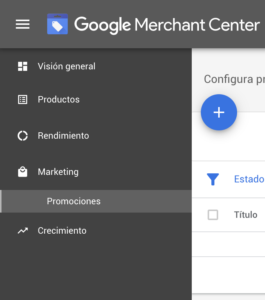 This tool allows us to quickly upload promotions to Google Shopping to apply them on inventory, even setting conditions. It is also very easy to edit the previous promos and the approval of offers has been reduced from days to hours. Thanks to this we can better react to buyer demand, such as participating in a flash sale or extending existing promotional periods.
Currently the promotions tab is only available in some accounts and countries but they will be expanding it little by little.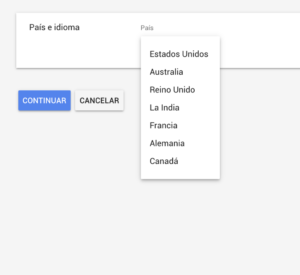 With this novelty we can create a promotion directed to any of the previous countries. The type of offer that allows us to create is an amount or percentage of discount, a gift or free shipping.
Discount amount / percentage
On many occasions, when we launch an offer in an ecommerce we choose to modify the price of the product itself on the web and therefore Google Shopping shows it to us directly. However, sometimes we want to launch a discount that is applied at the check out itself and therefore the price of the product does not change until the purchase process begins. In this situation, we are interested in creating such a promotion in Google Merchant Center.
Within the possibilities that it gives us, we can choose the direct discount on all the products, the one to offer a discount on a product after buying a minimum quantity of it or the one to make an offer on the total value of the cart when buying a minimum.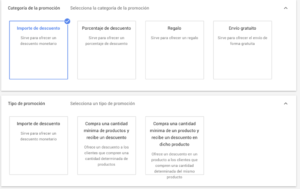 In the case of the discount percentage, it works exactly the same, but the discount goes with a percentage instead of a monetary amount.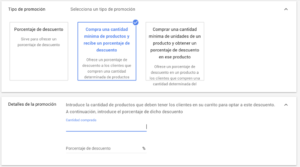 An advantage of creating this type of promotion is that when a user does a search in Shopping, they can filter by the products on sale. In addition, the products that have a discount will have a prominent annotation on the ad itself that indicates it, making it much more attractive for the user to encourage the purchase. The same will happen in Google Images on the images of the products on offer.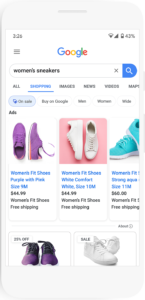 2. Gift
Another of the promotions that allows us to easily create Google Merchant Center is the gift one. This consists of including a gift when buying another product in the online store and it is very useful for sectors in which in many cases when buying a product you get another one for free, for example in pharmacies or perfumeries.
Among the options that Google allows us to create are that of giving a product for the purchase of another, this second being in inventory or not, and that of giving a gift card for future purchases.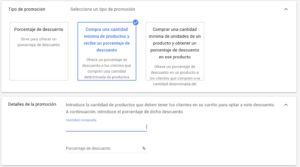 3. Free Shipping
The last promotion that Google Merchant Center allows us to add is free shipping.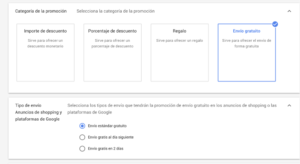 So far, in order to communicate that we had a free shipping offer on time, we were forced to modify the standard shipping rates that we set up within the feed or within Google Merchant Center. Thanks to this novelty we can now do it in less than a minute and only during the days that we want to have the offer active.
This promotion allows us to add activation conditions such as a minimum purchase amount or quantity.