19 Feb

Google Analytics Efficiently
Google Analytics is one of the most important tools for all those who work in marketing.
This Google platform provides data and very important metrics to then make decisions on a day-to-day basis, whether in adjustments or in strategies.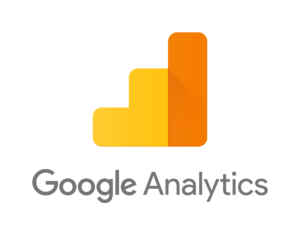 1- First steps:
The first thing you should do is register in Google Analytics and create an account in which you enter the Web URL. In this way, Google generates a unique identification number, which it gives you from Google Analytics and that you can implement on your website either through a plugin if it is WordPress or a code. Once the plugin is activated, you must confirm if it is properly configured.
Google Analytics provides all the information and guidance on how to configure Google Analytics. And if your website is created in WordPress in this post, you can see several different ways to install Google Analytics on a WordPress website.
You have to verify that Google Analytics is active, and you can do it in the following way:
See your report panel and click on the Real Time section and then on the first option:
General description and see if there are movements of visits on your website.
You can check it by making a visit with your mobile or your computer and see if it produces any changes. If so, your website is already synchronized with Google Analytics and from then on it will record all visits to your website.
Important: Activating an account in Google Analytics is not always immediate. In some cases, it may take 24 to 48 hours before it is activated and you can see the results of visits to your website, in real time and in the past.
2- Adjust to your Measurement:
You already have an active Google Analytics account, in the main panel, you will be able to see the data of all the accounts that you manage or that have allowed you to manage or analyze. This is possible, since the platform allows you to view and manage multiple accounts, if you have the necessary permissions.
User management You can also give permissions with different degrees to other users. For this, it is only necessary to include your email, mark the degree of functionality and permissions and send a notification by email.
From this link, the person you have invited or authorized can have access to your account data. This greatly facilitates the functions of the Community Manager, the agency or the person in charge of analyzing your Marketing Campaigns / Sem.
Also from this section you can configure or edit the ownership of an account and create the filters that you find appropriate for its better management. You can also custom configure your dashboards to show you the information you want, tag and create smart events and shortcuts to your reports.
3- Your Goals in Analytics:
It is recommended that you start by defining your Marketing Objectives:
Goals should always be the main reason for your campaigns. Whether they are economic, subscription, branding or positioning objectives, it is these who should govern your campaigns.
You must define clear and measurable objectives in Marketing, so that through Web Analytics you can see and compare the metrics and results of your campaigns; and around them, make decisions that help you improve. As they say, what is not measured cannot be improved, this must always be applied in Marketing.
Without a clear objective it is impossible to draw up a Marketing Plan and Google Analytics reminds you and facilitates it in each of its metrics and dimensions. In each of your reports, it gives you the opportunity to see and know which metrics, keywords, channels or sources have helped you meet your objectives, in what number, in what order and in what percentage.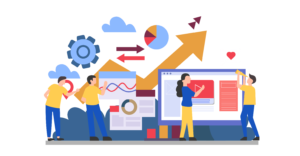 Configure your goals in the Administration Panel. You can configure several types of objectives, whether for revenue, acquisition, consultation and interaction, each with internal subdivisions. This will allow you, for example, to know and configure each of the objectives for your brand and not only those of conversion into sales.
You will see that in the first section are objectives related to income or economic transactions, reservations or where someone can make an appointment with you. But there are also objectives for generating leads or registrations through forms on your website or on your contact page, where you can obtain databases that you can later implement in your Marketing campaigns.
All the Goals in Google Analytics can be adjusted with a real budget that will help you calculate the value acquired through a transaction or macro conversion or a reservation or a new subscription if it is the case. They also allow you to know and evaluate the degree of real interest in your products or services of the people who visit your website and calculate how many of them finally decide to acquire what your brand offers on the web.
It also allows you to create personalized objectives based on the time your visitors stay or their behavior on your website. You can also create goals by setting a number of pages on each visit or by pinpointing a landing page.
This applied correctly will allow you to generate reports that allow you to know what are the metrics, segments, sources, keywords or channels that help you meet the intermediate objectives or KPIs and the general objectives of your strategy.
Your goals can be seen, in addition to the Conversions section, in almost all reports and metrics. You can see them in the columns to the right of your report or with drop-down tabs that filter the information for each of your objectives and that relate which pages, sources or channels help you meet more objectives, which ones and in what way.
4- Reports and Metrics:
You will see that from each and every one of the sections you can create a report. Google Analytics offers you 5 great items that will show you all the results of the behavior of visits to your website:
Reports in Real Time: in relation to the users who are arranged at the time of the metric
Audience Reports: Location and where your visits come from, both geographically and by the technology or type of connection they have.
Acquisition Reports: Metrics related to the origin of your visits, how they find you through which channels they reach your website and through which keywords.
Behavior Reports: metrics related to the behavior and navigation of users within your website.
Conversion Reports: detailed metrics of the conversion of each and every one of your goals.
Keep in mind that Google Analytics always organizes this information from highest to lowest in relation to the metric and the established period of time, but you can also organize it in each column if you click on the header of it, to organize the report by that priority.
All reports are relevant, but it is very important to know that the largest number is not always the most representative. Many times the CTR or percentage of clicks on impressions is more relevant than the highest number of impressions or visits, for example.
Don't be content with the volume of visits, look at the detail in the columns on the right and see which of these metrics help you to better convert your goals. What are the channels or media that make your visitors meet your goals.
Each of the Metrics in Google Analytics are related to a modifiable period of time, but which by default takes the last four weeks of activity on your website. This period of time can be compared with a similar number of days (period of time) or with the previous year, with which you can establish parameters and know if your Marketing Strategy is working, or if you need to implement a change to improve.
5- Objective and Audience:
Google Analytics offers you a lot of data, for example: where your visits come from (country, city, state). But like this, it is important that you look at what language they speak, what technology they use and from what devices they connect to your website. It is essential that you look at, for example, how many are new visitors, how many are recurring visitors and in this way you can calculate how much audience you have loyal.
Through the reports you can know exactly how many pages of your website they visit and how long they stay on each one. You will know how many people read your website from their mobile devices; how many do it from the computer and how long do they spend there on average, etc. This will be useful to be more assertive in your campaigns and offer the content to the public that visits you.
But in addition to all these reports, it is important that you compare these reports with different time ranges (previous period, previous year). In this way you will be able to know which and how many of those visits help you to convert objectives on your website and which ones do it in a better percentage.
A good knowledge of your audience will allow you to make important decisions regarding the segmentation of your Marketing campaigns with Google (ADS) Adwords. And it will help you create a better Marketing focused on your Target Audience.
6- Link Google Analytics and Adwords:
Google Analytics allows you to synchronize your Google Adwords account to be able to fully track your paid campaigns. In this way you can calculate the ROI of your company's Marketing campaigns. That is, how profitable are the ads you make on the web and which ones are the most effective.
Once your accounts are synchronized, (it is done from the administration panel), the management of the campaigns is configured with your conversion goals and your account becomes a great calculator that can determine, on the one hand, the payments of the campaigns and on the other hand the income from your ads.
This synchronization allows you to know exactly which of your campaigns, ad groups and keywords convert the best and which ones help you more effectively achieve objectives. This information and its comparison will help you improve the profitability of your Marketing campaigns.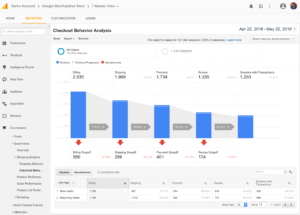 I leave you a link where you can see how to prepare to get the Google Analytics certification.
https://support.google.com/analytics/answer/3424288?hl=en
And also where you have all the information and the exam in Skillshop.
https://skillshop.exceedlms.com/student/path/2934-google-analytics-individual-qualification
greetings and I hope you like this post.